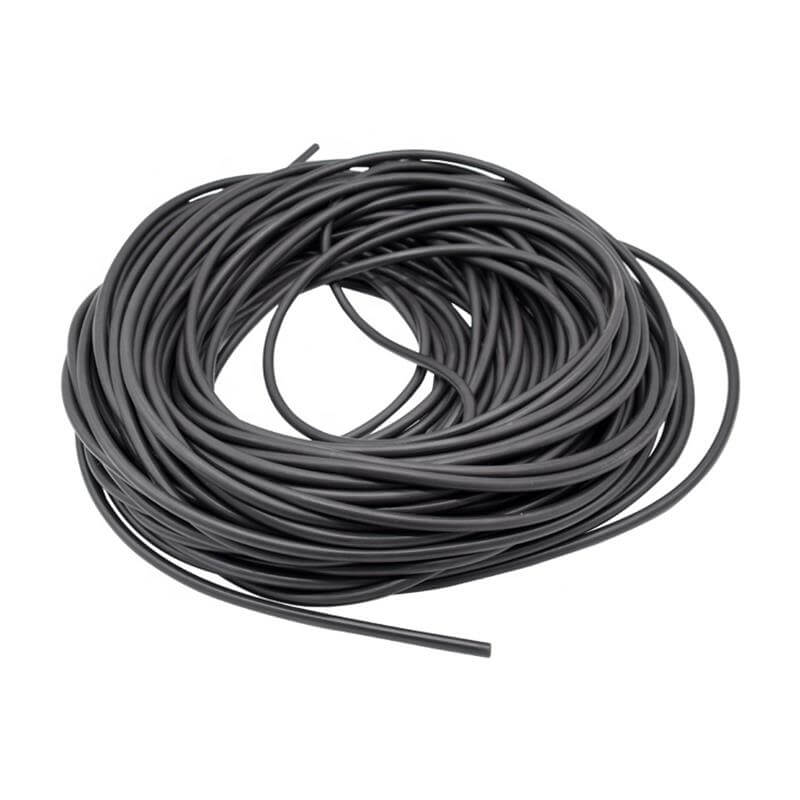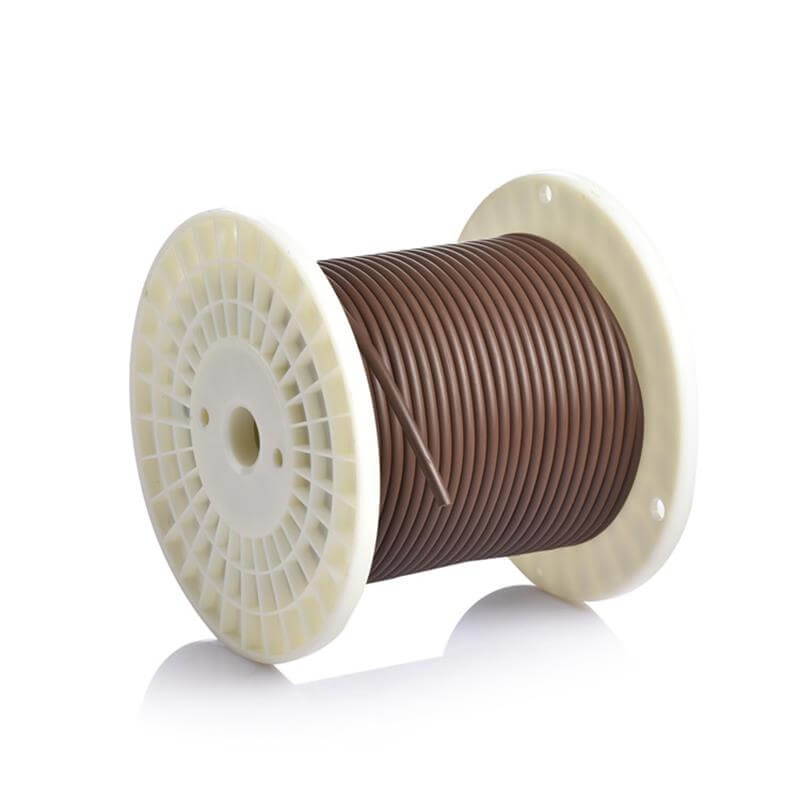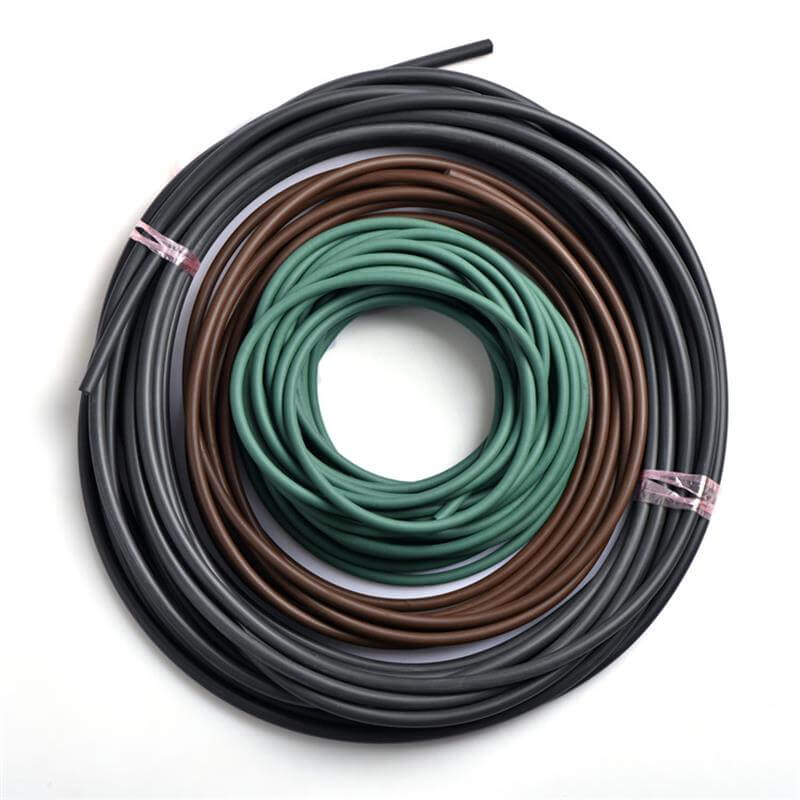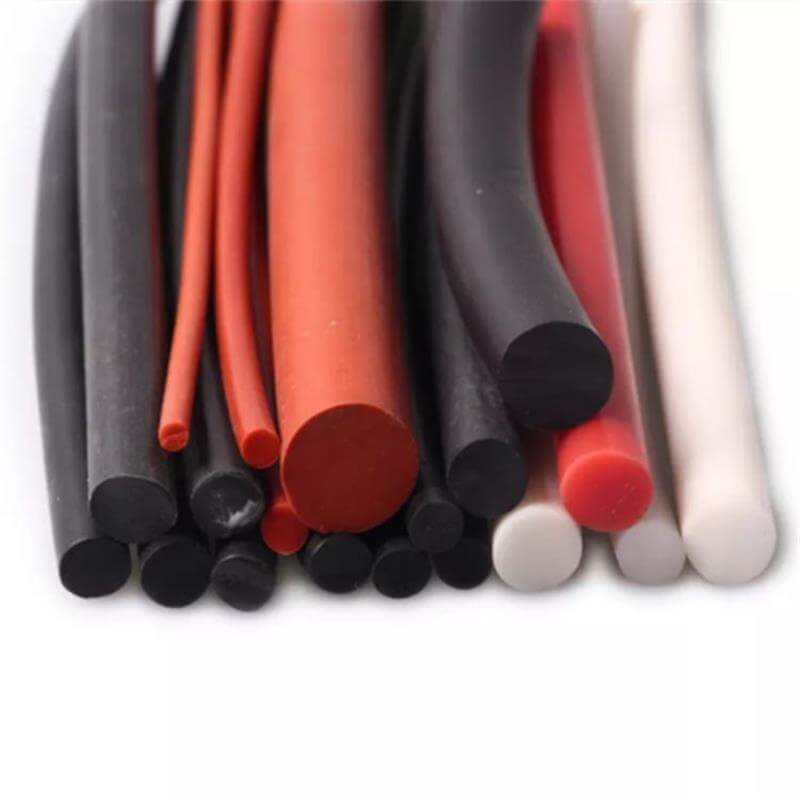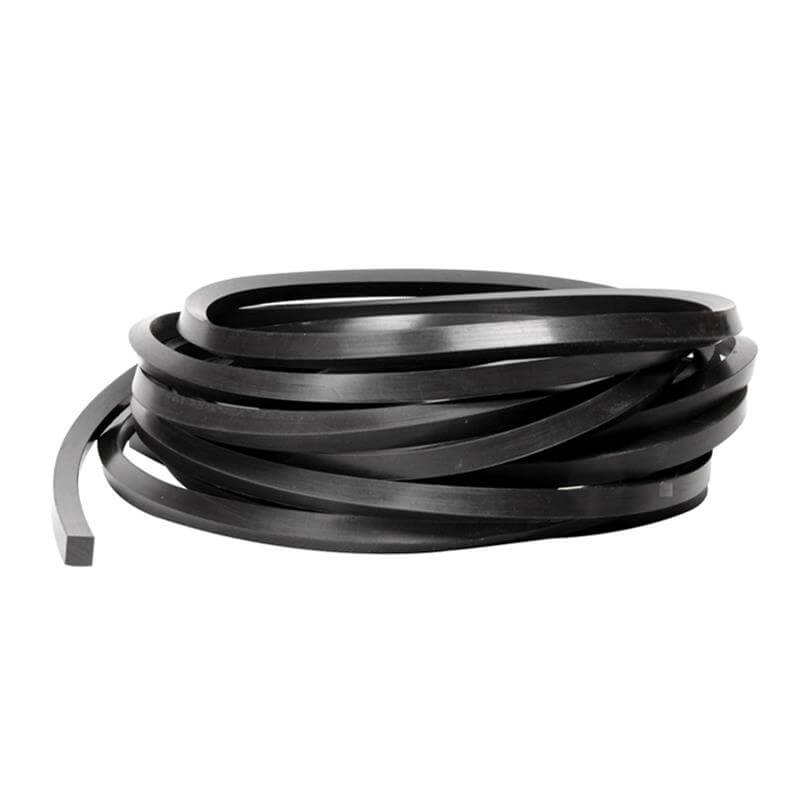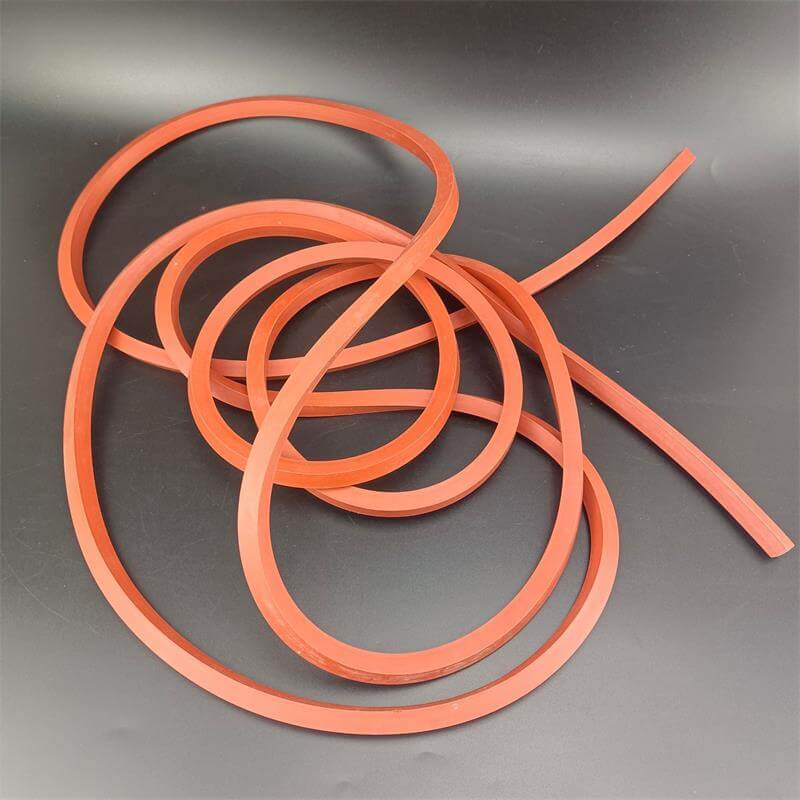 Savvy is a China manufacturer and supplier having both imperial and metric rubber o-ring cord stock.
O-Ring Cord (also known as o-ring strip or o-ring rope) is a rubber cord seal with a circular cross-section. It can be directly used on a sealing groove to prevent fluid or gas from leaking or cut the required length and use specific glue to DIY join two ends to form the needed standard o-ring. The rubber cord is usually stretch-formed, so its manufacturing time is short. It can be cut to 1-meter length or rolled into 100-meter or longer for easy packing and transportation.
According to the cross-sectional shape, the o-ring cord can be divided into four types, namely standard, square, rectangular, and quad. The standard one is the most widely used and the most cost-effective cord, and the quad ring cord is of the best performance but most expensive.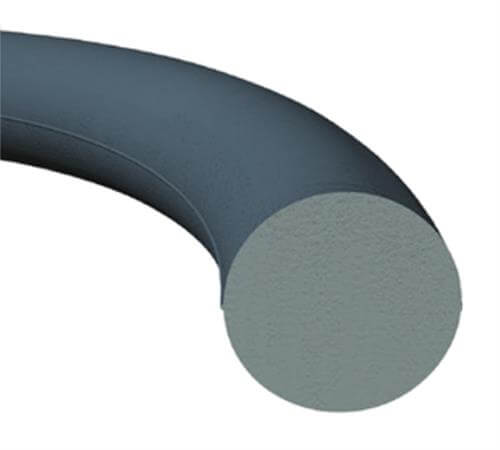 Standard O-Ring Cord
Its profile/cross-section is circular (O-shaped) and it is the most commonly used cord stock with the lowest price.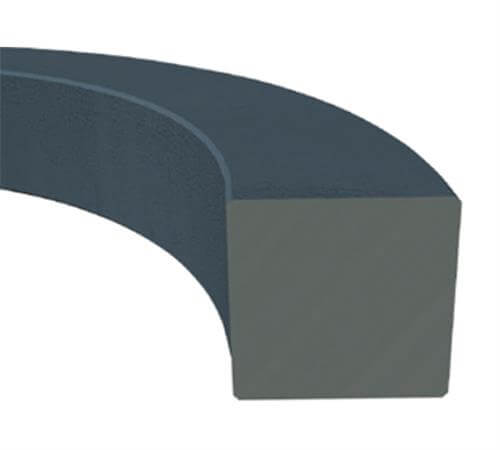 Square O-Ring Cord
Its profile/cross-section is square (▢-shaped) and it can replace a standard cord while providing a better sealing function.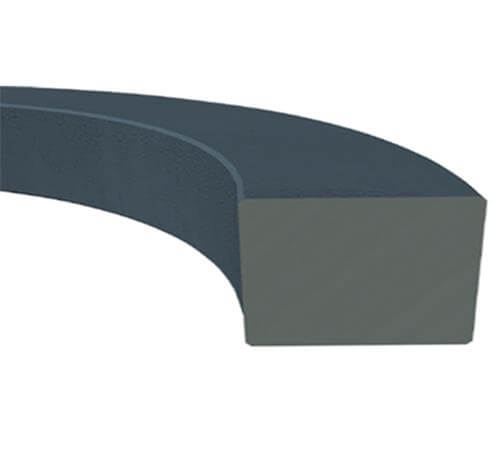 Rectangular O-Ring Cord
Its profile/cross-section is rectangular (▭-shaped) and it is used in those sealing grooves which are rectangular in shape.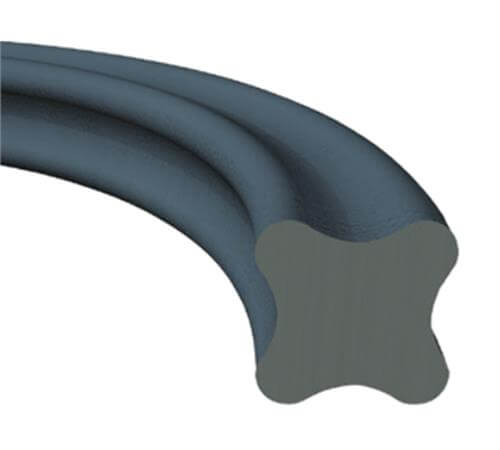 Quad Ring Cord
Its profile/cross-section is quad (X-shaped) and it can be used in both static and dynamic applications. lt alsot has a longer service life.
The cord is available in a variety of rubber and plastic materials such as NBR, HNBR, Viton, Silicone, EPDM, Neoprene, Teflon, etc. Savvy can manufacture a lot of different materials of o-ring cord and have a big o-ring cord stock. The regular hardness or durometer is Shore A 70, but we can also make it at Shore A 50 / 60 / 75 / 90, etc.
NBR/ Nitrile O-Ring Cord – most cost-effective, used for most industries and applications.
Viton O-Ring Cord – higher temperature, strong chemical resistance, good performance, and higher cost.
Silicone O-Ring Cord – tasteless and non-toxic, used in medical and food industries, especially FDA silicone.
EPDM O-Ring Cord – good resistance to aging, weather, and chemical corrosion, especially used in the automobile industry.
Neoprene O-Ring Cord – good elastic, anti-violent twisting, resistance to abrasion and fire, with good chemical stability.
PTFE O Ring Cord – belongs to plastic material, with high hardness, and good chemical stability, commonly used as a backup ring.
O-Ring Cord Cut Length Calculator
You can calculate the proper cut length of the rubber cord stock extrusion with the following calculator. Please confirm the right values of the inside diameter (ID) and the profile cross-section (CS) first and then do some simple calculations.

(ID + CS) X 3.14156 = Cord Cut Length
For Example:
Using a 5mm (CS) diameter cord, the user wants to make a standard o-ring that has a 100-mm inside diameter.
The calculation to cut the length of the cord to make the needed o-ring is as follows:
100 (ID)+5 (CS)= 105
105×3.1415926= 329.87 mm
The cord shall be cut to a length of 329.87 mm to make the needed o-ring.
O-Ring Cord Size Chart & Tolerance
The size of a standard cord is measured by profile diameter. This chart shows both the imperial and metric sizes. The table also displays the o-ring cord stock tolerance, so that you can accurately calculate whether the cord can be suitable for your precise application. Among these sizes, the inch size is slightly different from the AS568 o-ring size, while the metric size is mainly based on integers or .5 numbers.
Basically, we can manufacture all of these sizes of cord at high quality, low price, and very fast delivery. If some size is not listed in the table, please must contact our sales to discuss your customized cord. The packing of the rubber cord could be very simple or tied to a roller. Please order according to your actual needs.
Metric O-Ring Cord Size Chart

| Metric CS (mm) | Actual CS (inch) | Tolerance (mm) |
| --- | --- | --- |
| 2.0 | 0.079 | ± 0.20 |
| 2.5 | 0.098 | ± 0.25 |
| 3.0 | 0.118 | ± 0.25 |
| 3.5 | 0.138 | ± 0.35 |
| 4.0 | 0.157 | ± 0.35 |
| 4.5 | 0.177 | ± 0.40 |
| 5.0 | 0.197 | ± 0.40 |
| 5.5 | 0.217 | ± 0.40 |
| 6.0 | 0.236 | ± 0.40 |
| 6.5 | 0.256 | ± 0.55 |
| 7.0 | 0.276 | ± 0.55 |
| 7.5 | 0.295 | ± 0.55 |
| 8.0 | 0.315 | ± 0.55 |
| 8.5 | 0.335 | ± 0.55 |
| 9.0 | 0.354 | ± 0.55 |
| 10 | 0.394 | ± 0.55 |
| 11 | 0.433 | ± 0.65 |
| 12 | 0.472 | ± 0.65 |
| 13 | 0.512 | ± 0.65 |
| 14 | 0.551 | ± 0.65 |
| 15 | 0.591 | ± 0.65 |
| 16 | 0.63 | ± 0.65 |
| 17 | 0.669 | ± 0.65 |
| 18 | 0.709 | ± 0.85 |
| 19 | 0.748 | ± 0.85 |
| 20 | 0.787 | ± 0.85 |
| 21 | 0.827 | ± 0.85 |
| 22 | 0.866 | ± 0.85 |
| 23 | 0.906 | ± 0.85 |
| 24 | 0.945 | ± 0.85 |
| 25 | 0.984 | ± 0.10 |
| 26 | 1.024 | ± 0.10 |
| 27 | 1.063 | ± 0.10 |
| 28 | 1.102 | ± 0.10 |
| 29 | 1.142 | ± 0.10 |
| 30 | 1.181 | ± 0.10 |
Imperial O-Ring Cord Size Chart

| Nominal CS (inch) | Actual CS (inch) | Metric CS (mm) | Tolerance (inch) |
| --- | --- | --- | --- |
| 1/16″ | 0.070 | 1.78 | ± 0.008 |
| 3/32″ | 0.103 | 2.62 | ± 0.010 |
| 1/8″ | 0.139 | 3.53 | ± 0.014 |
| 3/16″ | 0.210 | 5.33 | ± 0.016 |
| 1/4″ | 0.275 | 6.99 | ± 0.022 |
| 5/16″ | 0.313 | 7.95 | ± 0.022 |
| 3/8″ | 0.375 | 9.53 | ± 0.022 |
| 13/32″ | 0.406 | 10.31 | ± 0.022 |
| 7/16″ | 0.437 | 11.10 | ± 0.026 |
| 15/32″ | 0.472 | 11.99 | ± 0.026 |
| 1/2″ | 0.500 | 12.70 | ± 0.026 |
| 9/16″ | 0.562 | 14.27 | ± 0.026 |
| 5/8″ | 0.625 | 15.88 | ± 0.026 |
| 3/4″ | 0.750 | 19.05 | ± 0.033 |
| 7/8″ | 0.875 | 22.23 | ± 0.033 |
| 1″ | 1.000 | 25.40 | ± 0.039 |
| 1-1/16″ | 1.062 | 26.97 | ± 0.039 |
| 1-1/8″ | 1.125 | 28.58 | ± 0.039 |
| 1-1/4″ | 1.250 | 31.75 | ± 0.039 |
| 1-1/2″ | 1.500 | 38.10 | ± 0.039 |